Merry Christmas readers!
I don't know about you but I'm pooped!  Every year I tell myself that I'm going to simplify the holidays but then somehow one party turns into three, the number of presents to wrap keeps growing, I'll bake just one more batch of cookies, the holidays in non-profit world keep getting busier (not that I'm complaining about all the people we're helping!), traveling gets more hectic.  And then all of a sudden it's over and I realize I didn't stop and remember the reason I feel compelled to do all that to start with.
I'm challenging myself over the next couple days before Christmas to slow down, enjoy time with family, remember to take a little "me" time and don't forget to breathe.  One way I'll do that is to relax and enjoy some of the little traditions we do this week.
One of my absolute favorite things to do during the holidays is curl up on the couch with a cup of hot cocoa (and homemade marshmallows), a fuzzy blanket, and my husband and watch classic Christmas movies and cartoons.  Each time I settle down to watch Charlie Brown, White Christmas or Claymation Christmas I feel a calm settle on me.  I get super sappy and nostalgic when I watch those things.  I remember the childlike wonder and amazement of the Christmas season and at least for a few minutes all is right in the world.
My very favorite Christmas cartoon is How the Grinch Stole Christmas.  Not only do I love everything Dr. Seuss, I love the reminder that Christmas isn't about things and being busy, it's about the quality time we spend with family and friends celebrating the season.
He puzzled and puzzled till his puzzler was sore. Then the Grinch thought of something he hadn't before. Maybe Christmas, he thought… doesn't come from a store. Maybe Christmas, perhaps… means a little bit more!
Let's all take our queue from Mr. Grinch and Whoville and remember…
Welcome, Christmas, bring your cheer. Cheer to all Whos far and near. Christmas Day is in our grasp, so long as we have hands to clasp. Christmas Day will always be just as long as we have we. Welcome Christmas while we stand, heart to heart, and hand in hand.
---
Hash is a great way to use up leftover meat and veggies that are hanging in the fridge around the holidays.  I love to make hash and every time I do I can't help but think of the Grinch slinking through Cindy Lou's house stealing everything including the Who hash!
This hash combines sweet potatoes, brussel sprouts and homemade turkey chorizo for a filling breakfast fit for a Christmas morning full of opening presents!!
 Then he slunk to the ice box. He took the Whos' feast, he took the Who pudding, he took the roast beast. He cleaned out that ice box as quick as a flash. Why, the Grinch even took their last can of Who hash.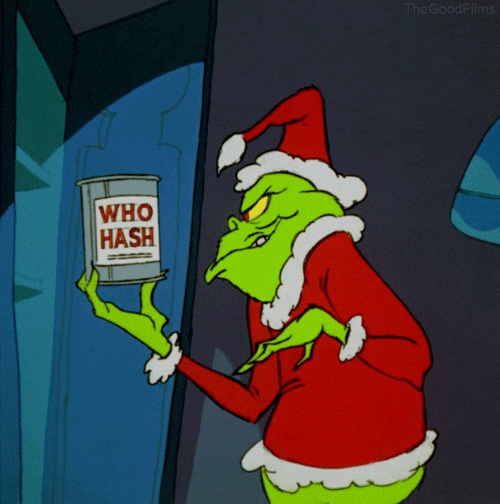 The Grinch's Who Hash

Olive oil
Garlic
1 cup red onion, diced
1 large red bell pepper, diced
1 poblano pepper, diced
2 cups sweet potato, pre-cooked (this is a great way to use leftover roasted potatoes)
2 cups brussel sprouts, sliced thin
Homemade chorizo (recipe below)
Fried eggs
To finish: salsa, cilantro, cotija cheese (all optional)

Turkey Chorizo
1 lb. ground turkey breast
2 cloves garlic, minced
1 teaspoon chili powder
1 teaspoon smoked paprika
1 teaspoon Mexican oregano
1 teaspoon kosher salt
½ teaspoon crushed red pepper flakes
¼ teaspoon cracked black pepper
Splash of apple cider vinegar

To make chorizo: Mix all spices and apple cider vinegar together to make a paste.  Mix it with the turkey until thoroughly combined.

Heat a large cast iron skillet over medium high heat. When hot, add a big glug of olive oil and let heat. Add chorizo and cook 4-5 minutes or until cooked through. Remove from pan.

Heat a little more olive oil in the hot pan. Add garlic and cook until fragrant (about 30 seconds). Add onion, bell pepper and poblanos and cook until slightly charred around the edges. Add sweet potatoes and brussel sprouts and cook another 5 minutes or so until all the veggies are cooked through and a little crispy around the edges. Add the chorizo back to the pan and season with salt and pepper.

To serve: top the hash with two eggs any way you like them. I prefer over easy with all their yolky goodness. Top with a little of your favorite salsa, cilantro and a sprinkling of cotija cheese. Yum!

Source: Ruth's Table
You're a rotter, Mr. Grinch / You're the king of sinful sots / Your heart's a dead tomato splotched with moldy purple spots / Mr. Gri-inch! / You're a three-decker sauerkraut and toadstool sandwich with arsenic sauce!
I bet if the Grinch started his day with this hash he wouldn't have been so Grinchy!  🙂
What's your favorite Dr. Seuss book?